Training Methods
ARDA training methods have served as the model for canine search and rescue units across the nation and around the world. These training methods are detailed in the ARDA textbook, Search and Rescue Dogs: Training the K-9 Hero. This textbook, which was revised in 2002, sets forth the training concepts that have stood the test of thousands of successful ARDA missions.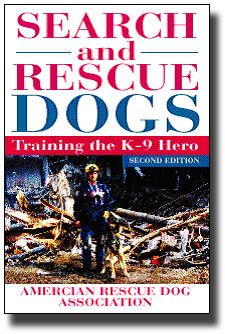 Instruction/Trainers
ARDA currently has trainers and instructors available with expertise in wilderness (area) search, disaster search, human remains detection and water recovery. Many of our trainers and instructors have experience in both national and international settings. For additional information or to discuss fees and availability, please contact us via email.
Training Events
Please refer to the ARDA Training Calendar for a list of upcoming training events and seminars.
Videos of Dogs Training
ARDA Units use many breeds of dogs, and many different indications for a find. The video below shows Georgia, an ARDA-VA dog, who performs a trained Stay-and-Bark at the "missing" subject.